Опубликовано
26 нояб. 2021 г.
Livetrend: Floral Trends - Spring/Summer 2022
Опубликовано
26 нояб. 2021 г.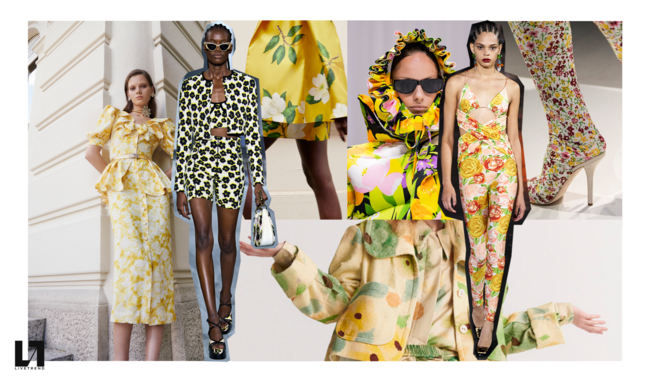 How to interpret the feminine summer classic for SS22?


Florals are a staple for most womenswear summer collections. With SS22 focusing more on the renewal of classical prints, it seems unsurprising that florals have taken pole-position as the must-have pattern with 1480 looks and a steady 17% yearly growth rate across the latest fashion week.

The design vision is clear: more expressive than ever to lift the mood. The enchanting energy of updated floral styles clearly reflects the positive consumer mindsets of the moment. Below, you will find a selection of the thematic design directions within the print that were detected by LIVETREND's unique AI solution.  The season's botanical graphics range from striking bolds and exotics, to feminine and seductive roses, metaverse-ready night gardens and digital florals, as well as humble interior interpretations and charming sketched designs. Overall, ideas of hope, bloom and transformation, which are essentially embedded in flowers, resonate the momentum of growth and evolution of our zeitgeist to put a focus on  a more fertile and prosperous future. A future in full blossom!

 
 
Highlight Floral Prints for SS22
 
Bigger and Better



SS22 is a bold and brave season: full of life, full of energy and radiating with glowing beauty. Taking over after seasons of subtle cottagecore looks, pulsating graphics are taking the lead now: Bold florals have been the most adapted variation. The graphic is defined by impactful choices of shapes and colors, as well as larger scales and impressive sizing. Bold flowers establish a unique character and empower consumers with louder voices and self-assurance. Bold florals are key to reflect current energies of inner growth and outer bloom. The print works well from daywear to evening looks and is most expressive in all-over silhouettes and matching sets.   

Rose Garden



Femininity is reaching a peak in 2022 regarding the current celebration of womanhood that is uncompromising and seductive in its language. Rose prints already emerged as a dreamy symbol across FW collections by designers. Back then,  it was favored with dark backdrops and a mystical gloom. For summer, backdrops are brightening up for a lighter feeling. The rose and its seductive symbolism blends well with feminine design concepts. From dreamy styles to Y2K influences, roses are an old new favorite. For these all-overs, designers opt for doomed-as-tacky realistic roses  or more poetical nostalgic aesthetics. At the same time, the rose has strong potential as a placed print, where  more expressive digital interpretations can add a contemporary feel.
Tropicana



Full of summer energies and vacation-vibes, tropical and exotic florals are injecting SS22 with a lust for travel. Vibrant color choices and dynamic designs dare to tap into almost psychedelic visuals that recreate the sensation of an intense summer trip. Exploring florals in such a vibrant way seems to reference the pulsating feel of the entire season. While exotic and tropical looks have begun to emerge throughout the previous season, consumers continue to delve into vacation dreamscapes.
Humble Homestead



Interior inspirations are still relevant for SS22. While this floral concept has been heavily explored during the pandemic, it seems like interior-inspired prints have turned into a reassuring staple. For this season, designers chose to follow two  directions with regards to such homely florals. The first one seems more opulent and continues previous cottage-core designs. The second, is looking towards a more humble homestead and depicts florals inspired by kitchen cloth embroideries and tiles. The latter seems slightly more bucolic and taps into the current taste for a more sustainable and conscious lifestyle.
Copyright LiveTrend.co
There is more [email protected]
Copyright © 2022 FashionNetwork.com All rights reserved.