Опубликовано
29 янв. 2021 г.
Trendstories: Eclectic Nomads /  New School  /  Nostalgic Roots - Autumn/Winter 2021-22
Опубликовано
29 янв. 2021 г.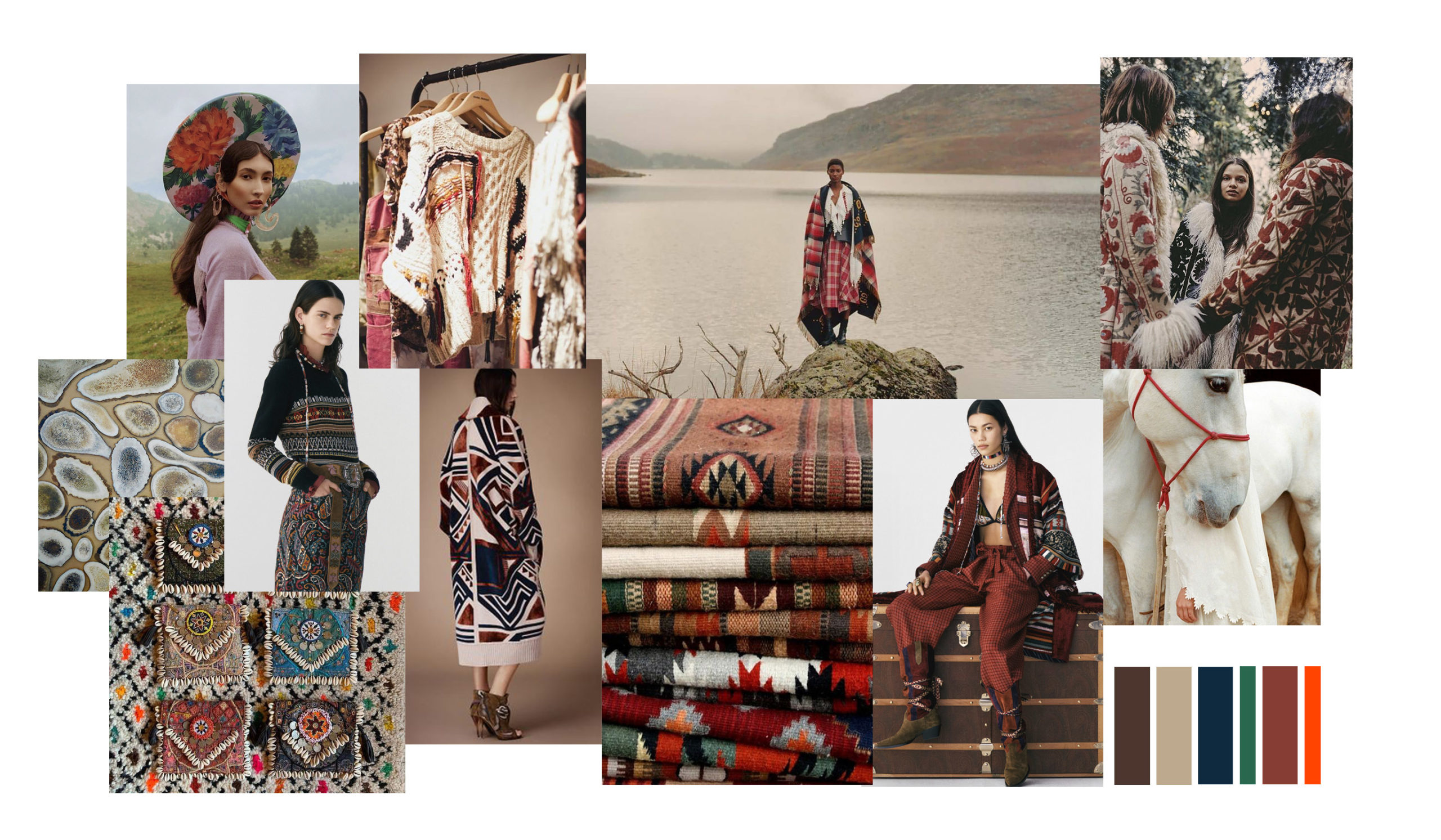 Eclectic Nomads is translating the need to find energy and inspiration in diverse cultural traditions and by exploring nature through a more nomadic lifestyle. Today, the revival of folkloric and bohemian styles is accelerated by the growing importance of supporting community, rediscovering ancient traditions and heritage and an increased interest in more ethical and socially sustainable practices. Culture, nature and historical knowledge have shown their connecting and soothing properties for a lot of people during recent times of crisis and are fundamental sources of inspiration for this emerging trend. The nomad life has become a dream, more than ever before, now that travel has been restricted and put on hold for such a long time. Ancestral and native cultures, seemingly so far out of reach, are becoming a true inspiration for the young generation. They look at native American cultures, Berber culture, Inuits and even prehistorical communities and develop an enhanced understanding for community and heritage. The intensified art & craft aesthetic is bringing a reassuring traditional feel and keeping the sense of human touch and hand-made, while a majority of our day-to-day life has become digital. To underpin the contemporary folk look, explore bold and crafty knits, heritage patterns and crafted textiles and mix them with tapestry and natural hardware. Clashing cultures, while remaining ethical (consider the cultural appropriation of your products) is key here.

The Dream of On-Campus Life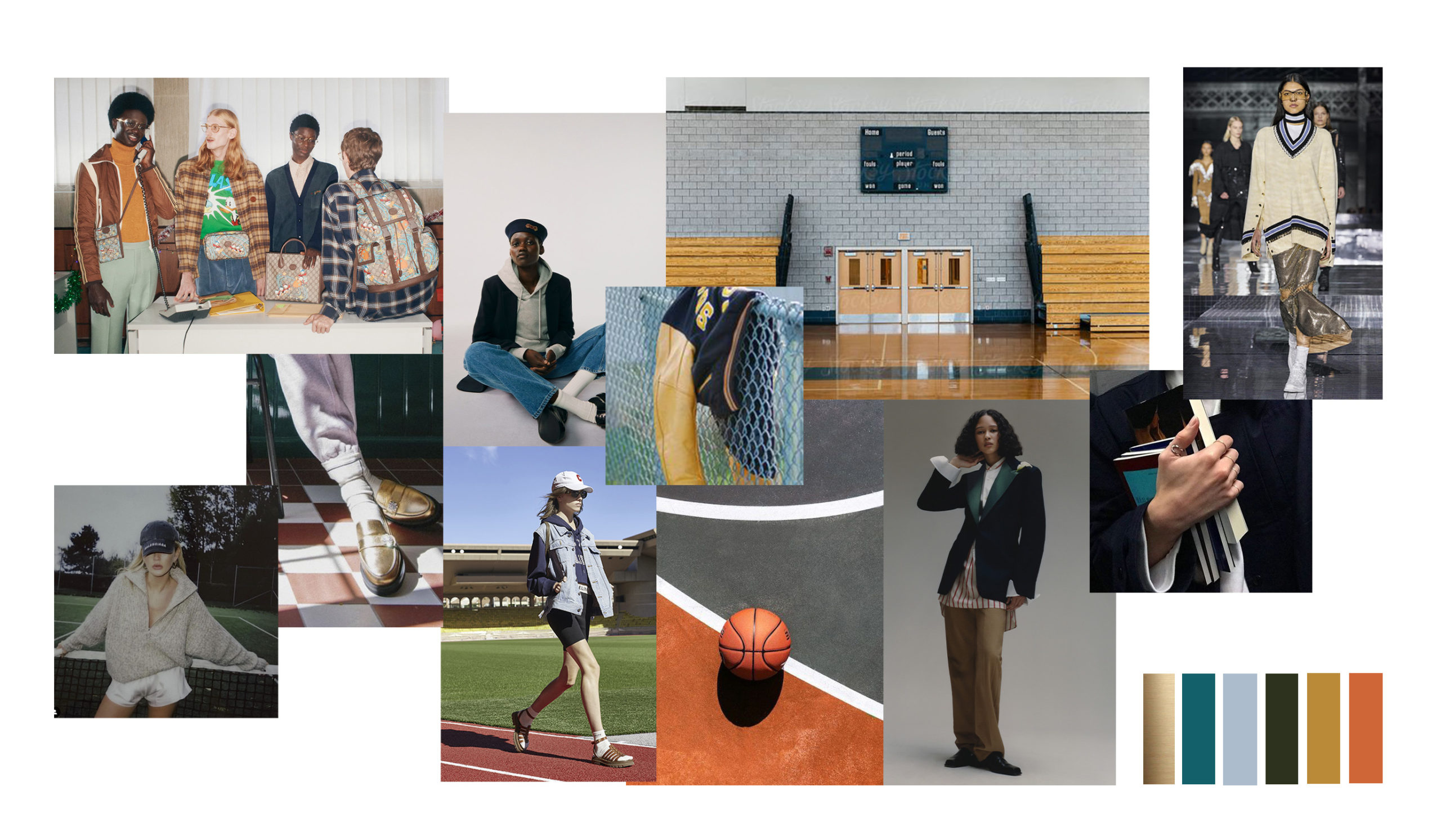 New School emerges especially for the youth market, dressing a fashionable Gen-Z and Millennial Client. The story celebrates preppy retro styles surrounding high-school and university life and activities. With the majority of classes taking place online today, students are longing for an authentic and social, real academic experience. Today's youth is dreaming of supporting their school's football teams, studying at the library, joining a sorority or simply eating lunch at the cafeteria with friends. The wish to escape into a romcom-ready university-life has become stronger than ever before, as it seems so out of reach. Bringing the campus feeling home means to create a smartened up look, where vintage pieces are becoming wardrobe-staples again. The taste for the familiar and worn-out, thrifted and authentic retro garment, is becoming a key driver for new collections. Some of the must-have pieces that come along this vintage college dream, such as lettering-jumpers, varsity jackets, knit-vests and loafers, are updated through more edgy silhouettes, digital color hues, and surprising styling. Mix&match combinations of different eras of on-campus life and clashes with other key styles, like romanticism or streetwear, are creating newness within this story. In general, high-low styling is key to achieve the new trending look. Use go-to accessories like lettering baseball-caps and berets to smarten-up your product range and capture the new prep aesthetic for a next season.


Embracing the Cozy Countryside Nostalgia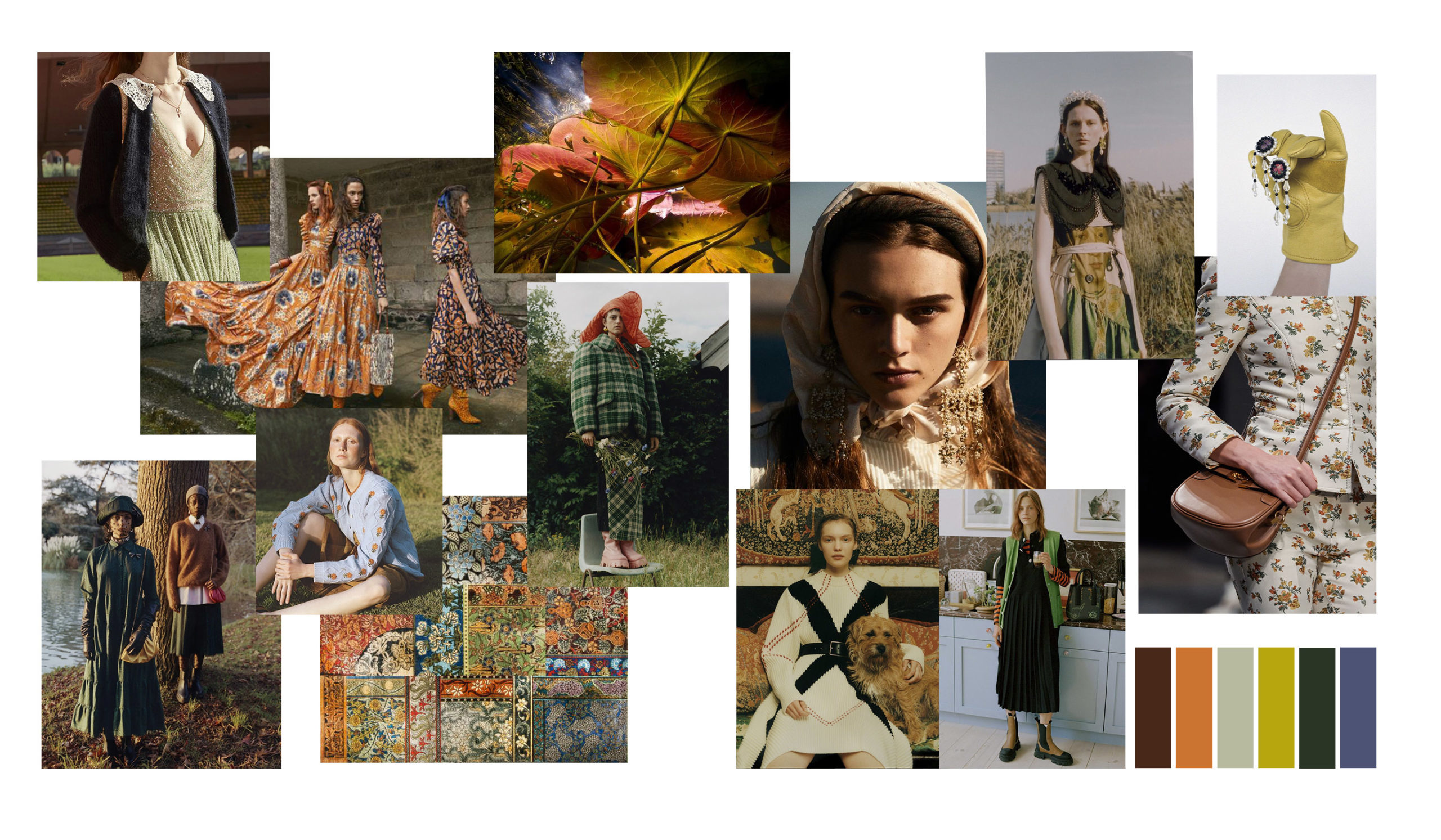 Nostalgic Roots is manifesting the cottagecore-trend for yet another season. The story is looking at the archives and a mood of the past, trying to define a future, during a period of constant change. This narrative revolves around introducing vintage pieces, as well as reinterpreting print, material and silhouette designs from the past. The mood can be defined as nostalgic romantic induced with an authentic, now more utilitarian understanding of life in the countryside. This clash of femininity and practical durability is not only important to balance this narrative, but to adapt wardrobes to new unpredictable weather patterns and consumers' increased turn towards life in the countryside. Fusing the hyper-feminine romantic elements (prairie and cottage dresses, florals, jewels, ruffles to name a few) with a more sturdy aesthetic (pockets, heavy knits and outerwear materials) generates a wide array of possibilities for innovative and twisted looks. A focus on traditional artisan and heritage crafts inspires especially the details and materials for this trend: lace, embroidery, openwork and knitwear with hand-crafted appeals bring the reassuring qualities of the past to current uncertain consumers. With colors rooted in deep and indulgent tones, that create a mystical and nature-bound mood, hints of digital-ready color-pops, such as acid-greens or fiery oranges are balancing the color-palette. Dive into the archives and tell this magical story of past, present and future now..

Stay on trend !

Livetrend is an all in one solution to master the trends and your market in real time to create best-seller collections. Our technology collects, enriches and classifies information and images from e-commerce websites and Instagram. We use artificial intelligence to analyze them and help brands create the right product at the right time.
Build successful collections and increase your bestsellers relying on Livetrend data-empowered trend analysis.
Contact livetrend.co and follow us on instagram @livetrend.co get inspired and started now!

To get more information and the credits of the artists represented in the moodboards feel free to contact us via mail or instagram.
Copyright © 2022 FashionNetwork.com All rights reserved.